Christie's

Old Master & British Paintings Evening Sale
In London, 2 December 2014
Christie's Old Master & British Paintings Evening Sale in London on Tuesday 2 December 2014 is led by a
remarkable portrait by Sir Anthony van Dyck of the musician Hendrick Liberti, which was in the collection of King Charles I at Whitehall by 1639 and has been unseen for almost a century, since its sale at Christie's by the 8th Duke of Grafton in 1923 (estimate: £2.5-3.5 million).
Portrait of Hendrick Liberti (circa 1600-1669), half-length, in black with three gold chains, holding a sheet of music, by a column by Sir Anthony van Dyck was owned by the artist's greatest single patron, King Charles I, who formed what was, until its dispersal in 1650, one of the most outstanding collections of pictures in northern Europe (estimate: £2.5-3.5 million). One of the most arresting portraits of van Dyck's second Antwerp period, this portrait was at Whitehall by 1639, and was subsequently acquired by the statesman, Henry Bennet, 1st Earl of Arlington, remaining in the possession of his descendants, the Dukes of Grafton, until its sale at Christie's in 1923. Included in major exhibitions in 1899 and 1900, and detailed in leading 20th century literature on the artist by Lionel Cust and Gustav Glück among others, this painting has not been seen, even by scholars in the field, for almost a century.
Liberti, the sitter, was a chorister who became a singer in the cathedral choir at Antwerp, in 1617; a composer and highly successful organist, he was appointed organist to the cathedral in March 1628, retaining the position for over 40 years until 1669. He also worked for the court at Brussels. Van Dyck was eighteen when Liberti moved to Antwerp, and had already established a position as the most gifted of the younger artists trained under Rubens. As the artistic and musical worlds were closely linked, it is very possible that the two had met before 3 October 1621, when van Dyck left for Italy.
From the outset of van Dyck's career it must have been clear to his contemporaries that he was a portraitist of remarkable perception and acuity; but it was in Italy, where he worked in Rome, in Palermo and, above all, in Genoa, that van Dyck came of age as a portraitist, paying particular attention to the work of Titian. When van Dyck returned to Antwerp in the summer of 1627, aged 28, he could claim a European reputation. Lanier was in Antwerp in the summer of 1628, and the portrait of the musician now in Vienna is dated to the same year by authorities including Millar, Vey, Vlieghe and Wheelock. A similar dating seems very plausible for the present portrait in which van Dyck, as so often, echoes Titian, not least in the shimmering brilliance of the silk costume, which is handled with a consistent delicacy.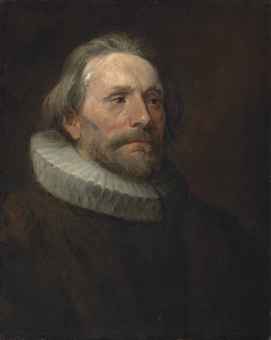 SIR ANTHONY VAN DYCK (ANTWERP 1599-1641 LONDON)
HEAD STUDY OF A MAN IN A RUFF
Estimate

$314,200 - $471,300
Christie's Dec 2012
Portrait of a lady three-quarter-length, in a black mantle, rust coloured silk skirt and lace ruff, with coral beads
by
Sir Anthony van Dyck (1599-1641)
is offered at auction for the first time in almost 40 years, from the Property of a Lady
(estimate: £700,000 to £1 million). This arresting portrait is thought to have been executed by van Dyck in the early 1620s, the decade in which he established his position as one of the most celebrated and sought-after portrait painters of his day. Painted when the artist was working independently, without a studio, his magnificent handling and full range of painterly effects are beautifully exhibited as is his innate interest in the character and the individual. The bold application of dragged paint in the sitter's sleeves and skirt is allied with the sensitively observed rendering of her features; the pallid skin and blue watery eyes – which look directly at the viewer - contrast with the dimly lit background. Long believed to date from the artist's years in Italy, the sitter has traditionally been identified as the Marchesa Lomellini-Durazzo, a noblewoman from the important Genoese family who sat for van Dyck's most ambitious and celebrated group portrait from his years in the Ligurian Republic,
The Lomellini Family
. Whilst in Genoa he encountered Rubens' striking and imaginative portraits, painted twenty years earlier, which sparked van Dyck's determination to surpass his country man's mastery of the genre.
Sir Anthony Van Dyck, Portrait of a Carmelite Monk, Head and Shoulders, c.1617-20, oil on oak panel, 62.3cm x 48cm, Est. £600,000-800,000*

Sotheby's will sell a newly discovered portrait by the great 17

th

Century Flemish painter Sir Anthony Van Dyck in its 6

th

July 2011 sale of Old Master and British Paintings in London. The intense and psychologically penetrating portrait of a young Carmelite monk is a hitherto unknown work, which Sotheby's has discovered to have been painted by the youthful Van Dyck during the years he worked in Rubens' studio. The painting is estimated to sell for £600,000-800,000.
Early last year Sotheby's Paris office did a routine valuation to appraise artwork, and noticed a painting of extraordinary quality which the family had owned for at least two centuries and which has always been known as the "Confesseur de Rubens". Sotheby's George Gordon, Co-Chairman, Old Master Paintings, Worldwide, observed that while Rubens' portraits are always formally composed, the current work, especially the way the young monk's head is turned to one side, creates an impression of spontaneity.

In addition, the brushwork in the present picture, which is painted in oil on oak panel, is clearly legible throughout most of the painting and is more reminiscent of Anthony Van Dyck when he worked in Rubens' studio, than of his teacher. Specifically, the use of thick paint to denote highlights in the sitter's habit is a characteristic of Van Dyck's personal style at this date, and can be seen in a series of paintings the artist made of the Apostles.

Of the large number of scholars who have had the opportunity to study this picture at first hand, the consensus view is that it is by Van Dyck towards the end of the period during which he worked with Rubens in Rubens' studio, circa 1617-1620.

Commenting on the discovery, George Gordon, Sotheby's Co-Chairman, Old Master Paintings, Worldwide, said:

"This is a very exciting discovery and a painting of really extraordinary quality and visceral power. Van Dyck probably painted this intense portrait in Rubens' house in Antwerp and the genius of the artist's touch and the expressive power of his brushwork cannot fail to make a forceful impression on the viewer."
The full-length
Portrait of Anne Sophia, Countess of Carnarvon (d. 1695)
by
Sir Anthony van Dyck (1599–1641)
is an important, historical portrait by the celebrated Flemish master (estimate: £1.5 million to £2 million). Lady Carnarvon was connected to the court by both birth and marriage. Her father Philip, 4th Earl of Pembroke, had been a favourite of King James I, and remained a central figure in the court of King Charles I, holding the influential position of Lord Chamberlain. Her husband, Robert Dormer, 1st Earl of Carnarvon, whom she married in 1625, was a considerable heir, whose family had risen in prominence under the Tudors. The 4th Earl of Pembroke was one of van Dyck's most important early patrons. This elegant full-length portrait, is thought likely to have been executed for Sir Edmund Verney, with whose family Lady Carnarvon was on friendly terms, and was painted
circa
1635.
Sotheby's December 9, 2009
An outstanding self portrait by Sir Anthony van Dyck (1599-1641) - one of the most important Continental European artists to have worked in England - comes to auction with exemplary provenance and an estimate of £2-3 million. The masterpiece, which is the artist's last portrait of himself, was painted in London in 1641 in the final months of his life. It is one of only three self portraits that he painted in England and this, his last, captures him grandly

attired in a black and white slashed silk doublet. The painting epitomises the elegant poise and relaxed informality that van Dyck brought to the art of portraiture in Britain and it undoubtedly ranks among the most important works by the artist ever to come to the auction market.
The portrait has been in the same family collection since 1912, a period of almost 300 years, and it was one of the star exhibits of the recent Van Dyck & Britain show at Tate Britain. When it last appeared on the market in 1712, it left the collection of Richard Graham and entered that of the family of its current owners. Prior to that – towards the latter part of the 17

th

century – it is understood to have belonged to Sir Peter Lely. A favoured pupil of van Dyck, Lely subsequently established himself as the leading painter at the Court of Charles II. He succeeded van Dyck as the most fashionable portrait artist in England.
Christie's 2009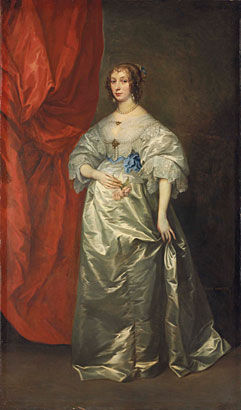 Portrait of Mrs Oliver St John, later Lady Poulett, full-length, holding pink
Portrait of Mrs. Oliver St. John, later Lady Poulett by Sir Anthony van Dyck (1599-1641) is an impressive full length portrait by the great Flemish master (estimate: £800,000 to £1,200,000). The picture was formerly in the collection of the 1st Earl of Clarendon (1609-1674), the historian, statesman and collector whose daughter married the future King James II of England, King James VII of Scotland.
The portrait is thought to have been painted in 1636; four years after the artist had been knighted and appointed Principal Painter in Ordinary to King Charles I. The sitter, Mrs Oliver St.John, later Lady Poulett, is shown while pregnant with her first child. After the death of Lord Poulett (the sitter's second husband), the painting was secured by the 3rd Earl of Lothian, a great Scottish collector. Early in 1667, he presented the portrait to the Earl of Clarendon who had apparently been 'looking after such a thing'. A letter from Lord Tweedale, Lord Chancellor of Scotland, to Lord Lothian on 24 February 1667 says of Clarendon's response to the gift 'He did commend it exceedingly as one of the best ever Vandick did'. The portrait passed by inheritance until a sale at Christie's in 1919 and was last seen in public when exhibited at The Detroit Institute of Fine Arts in 1929. The auction will offer two further works by van Dyck including Saint Bartholomew, which was formerly in the collection of the Earls of Spencer at Althorp and which is expected to realise £500,000 to £700,000.

PRICE REALIZED

£881,250.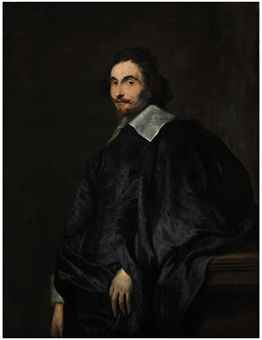 Portrait of a gentleman, traditionally called a Senator of Antwerp,
A portrait of Sir Robert Howard, KB (1626-1698), half-length