Biography National Gallery of Art
Frank Weston Benson was a well-known and financially successful painter, printmaker, and teacher. A founding member of the Ten, Benson was associated with that group of painters who withdrew from the Society of American Artists in 1897 in order to promote their work through smaller, more personal exhibitions, the first of which took place in 1898. Though quite diverse in their approaches, much of their work was characterized by visible brushwork, a lightened palette, and a concern with the natural and evocative qualities of light.

Benson was born in Salem, Massachusetts, in 1862, the second of six children of George Wiggin Benson, a prosperous Boston cotton merchant, and his wife, Elisabeth Frost Poole. His grandfather was Captain Samuel Benson, who sailed around the world and brought back many exotic treasures from his Far Eastern voyages, heirlooms that would appear later in his grandson's paintings. Benson's mother urged her husband to allow Frank to enroll in the newly-founded Boston Museum School in 1880, where he studed for three years under Otto Grundmann (1844-1890). While still a student, Benson began his career as an art teacher in the fall of 1881, hired by the city of Salem to teach evening drawing classes, which were offered free to the public.

Among his fellow students in Boston was Edmund C. Tarbell, who became Benson's lifelong friend and colleague for nearly three decades, as well as a fellow member of the Ten. The two young men studied together also in Paris, at the Academie Julian, under Gustave Boulanger (1824-1890) and Jules Joseph Lefebvre (1836-1911). While in Europe, where he arrived in October 1883, Benson spent the summer at the artists' colony of Concarneau, Brittany, and traveled with Tarbell through Germany, Italy, and England.

Upon returning to the United States in 1886, Benson worked briefly in Salem, Massachusetts, the town in which he would eventually settle. During 1886 and 1887 he taught drawing and painting at the Portland (Maine) Society of Art and in 1889 began to teach at the Boston Museum School. He remained there until 1912. While teaching Benson also received wide recognition for his own work. He won numerous awards, including the Hallgarten Prize at the National Academy of Design in 1889 and a Columbian Exposition Medal in Chicago in 1893. In 1896 he provided decorations for seven ceiling and wall panels in the Library of Congress. Benson became an Associate of the National Academy of Design in 1897 and an Academician in 1905. He was a founding member of the Guild of Boston Artists in 1914.

In 1915 the first exhibition of Frank Benson's etchings and drypoints was held. The prints, which were primarily of sporting subjects, such as waterfowl, combined Benson's great love of the outdoors with his free and open draftsmanship. So many variations of these subjects were created over the next decade that some accused the artist of being commercially repetitive. Nonetheless, the turn to sporting subjects in prints, watercolors, and paintings, changed the direction of his work and he created fewer of the serene paintings of women and children for which he had become so well-known. In the last years of his career his watercolor landscapes were much in demand.

Benson maintained his connection with the Boston Museum School as a member of the advisory Council until l930, when he resigned. Retrospective exhibitions of his work were held at the Corcoran Gallery, Washington, D.C., in 1921 and, jointly with Tarbell, in 1938 at the Museum of Fine Arts, Boston. Benson, who had a studio in Boston and, at various times, summer houses in Maine and Cape Cod, eventually retired to his home in Salem, Massachusetts. He died there on November 14, 1951.





Christie's American Art on November 22, 2016

The sale is led by

Frank Weston Benton's

dazzling work,

The Reader,

which depicts an iconic Impressionist subject; the artist's eldest daughter is enjoying a beautiful summer day reading outside while perched under a parasol (estimate: $2,500,000-3,500,000).

The Reader

is a prime example of the Maine summer paintings that embody the pinnacle of Benson's career-long play with light, and the work has been in a private collection for 40 years.

Christie's May 18, 2011



Frank Weston Benson's Eleanor and Benny (estimate: $3-5 million), is an important example of the artist's highly personal style of American Impressionism. As a leader of the Boston School, Benson was one of the first American artists to introduce figures into Impressionist landscapes, creating a new style of painting that remains among the most beloved genres of early 20
th
century American art. Painted in 1916, at the height of Benson's talents, Eleanor and Benny is a tender portrayal of the artist's daughter and grandson sharing the crisp summer light at the family compound in Maine. With its refined subject matter and sensitive execution, this superb, large-format painting brilliantly captures the aesthetic of the Boston School and recalls in both subject and style the major masterpieces of Benson's early career. Offered from a distinguished private collection, Eleanor and Benny was last exhibited publicly more than 15 years ago and has been requested for inclusion in a major museum exhibition in 2012.
Christie's
2013


Frank Weston Benson
The Seamstress
800,000-1,200,000
Christie's 2012
Christie's December 1, 2010
Two Little Girls, 1903
1,500,000- 2,500,000
Christie's 200

8
L
OT SOLD.
35,000
Sotheby's 2013
FRANK WESTON BENSON
1862 - 1951
AFTER SUNSET (LONG POINT SUNSET)
LOT SOLD.
389,000
FRANK WESTON BENSON
1862 - 1951
PORTRAIT OF MARJORIE COLDWELL WESTINGHOUSE (YOUNG GIRL IN A WHITE DRESS)
Estimate
250,000
—
350,000
AMERICAN
GROUSE ON A PINE BOUGH
Estimate
30,000
—
50,000
AMERICAN
SHOVELLER DRAKE IN FLIGHT
Swann 2008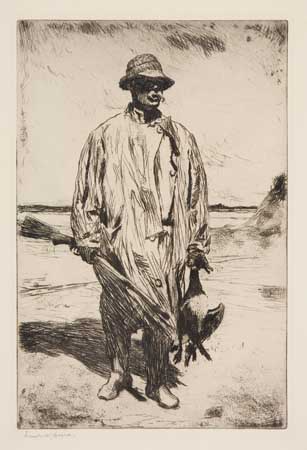 Estimate

$8,000 - $12,000

Price Realized (with Buyer's Premium) $14,400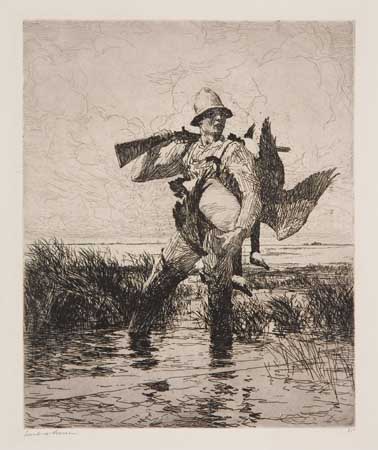 Price Realized (with Buyer's Premium) $6,240